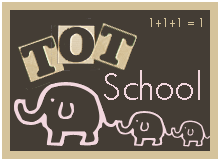 (The Little Lady is 28 Months)
We finished out our October with edible paint, counting trays, stickers and a trip to the Zoo!
Knowing the Little Lady's penchant for tasting EVERYTHING, I made the paint for our Orange Open Ended Art Project.  I didn't follow a recipe — just ground up rolled oats and added food coloring.  Sure enough, as soon as I set it out, she decided to test it out.
EDIBLE PAINT

Equal Parts Water and Ground Oatmeal (or flour)
Food Coloring

Instructions:

Mix the water and oatmeal/flour together until a smooth liquick consistency is reached.
Add the food coloring of your choice and stir till blended.
Allow your child to use stamps, fingers, paintbrushes, or other devices to paint!
Our next activity was simply some sticker play, using some random orange/black M&M stickers I had on hand.
I finally, FINALLY, found some cool trays at The Dollar Tree.  I've been wanting some of these since I saw similar ones on other blogs.   I wrote out the numbers 1-10 in the tray, and then set out four "pumpkin cups."  My goal was for the Little Lady to work on her 1-4 counting and to work on her fine motor skills as she transferred beans.  She became a little frustrated with counting — rather than force her to do it, I let her play with the beans . . . transferring them back and forth from the pumpkin cups and the counting tray.
On Halloween, we wrapped up our Pumpkin/Orange theme with a morning at the Houston Zoo for their annual "Zoo Boo," where the Little Lady painted pumpkins, played with goats, and marveled at the groundhogs!